Mauritius is currently facing significant challenges related to its sustainable development that both the government and NGOs are struggling to solve.
We believe there is a pressing need to nurture the nascent social entrepreneurship ecosystem for the sustainable development of Mauritius
At Trampoline, we strongly believe that entrepreneurship has a key role to play in creating new solutions that are impactful and financially viable. By providing structured support programmes, as well as dedicated mentorship, we support social entrepreneurs at every stage of their journey, from ideation to the acceleration of their projects.
Together, we can nurture and accelerate social innovation initiatives that tackle urgent issues today, and groom a new generation of changemakers for Mauritius.
Programmes to support social entrepreneurs at every stage.
Your first task is to find the programme that works best for where you are in your entrepreneurship journey. 
Let's take a look!
FIRST LEAP PROGRAMME
Pre-Incubation – Turn your idea into a project
Can your brilliant idea turn into a successful and sustainable social enterprise?
We are looking for ambitious go-getters with innovative ideas that address social or environmental challenges. Our intensive 2-month Pre-Incubation Programme is for creative minds who want to refine their ideas into a project they feel confident to pursue. 
Take advantage of priceless expertise on social entrepreneurship to test and structure your idea for success!
What you will achieve through the programme?
Find your social entrepreneurship sweet spot

Validate if there is a problem worth solving

Connect with like-minded passionates 

Get a clear understanding of who your customers are

Define how to generate impact and revenue

Conceptualise your social enterprise model
Benefits:
A methodology to conceptualize a viable model

Hand-picked educative resources on social entrepreneurship

Weekly coaching sessions

Visibility through Trampoline

Networking opportunities
DEADLINE TO APPLY: 22 JANUARY 2023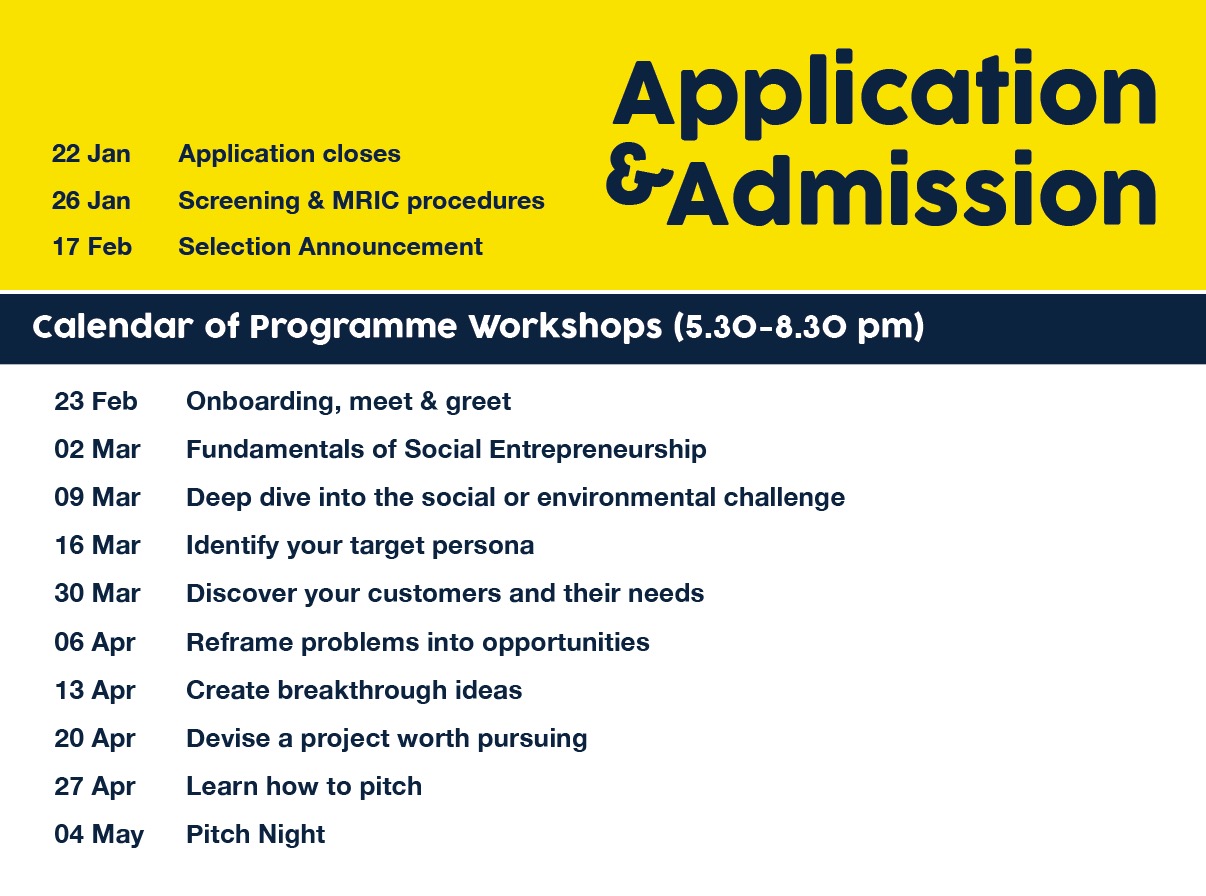 SPRINGBOARD PROGRAMME
Incubation – Launch your social enterprise
Ready to take the leap but you need support to develop your solution and launch your social enterprise? 
Our incubation programme has been designed to provide entrepreneurs with the methodology to develop a viable solution, one-on-one support to develop an impactful business plan and expert guidance to launch their social enterprise. 
You will have access to up to 18 months of structured engagements, mentorship and a-la-carte expertise to help you launch your social enterprise.
Requirements:
You have done in-depth primary and secondary research to understand the problem you want to solve

You have a clear understanding of the ecosystem and its key players, 

You have identified your customers and have collected data on their needs

You have an innovative, impactful and scalable solution

You have a plan to become financially sustainable

You are planning to start working full time on your solution
→ if you need help with this, we recommend you apply for the pre-incubation program
Coming soon
TAKE OFF PROGRAMME
Acceleration – Grow your impact sustainably 
Need a strong scaling strategy and support to develop your impact measurement? 
The Acceleration Programme focuses on social enterprises that already have existing revenue and are ready to scale. This intense 6-month programme equips social entrepreneurs with the right tools and connections to manage and grow their businesses, as well as scale their impact sustainably.
Requirements:
You have an impactful and viable solution addressing a pressing social or environmental problem

You have a business plan and are already generating revenue

You have a big vision and scaling capacity

Your social enterprise is incorporated and you have a strong core team
Coming soon
Why
should we all
take action?
Efforts to achieve the Sustainable Development Goals (SDGs) adopted by all United Nations Member States in 2015 have been impeded by the Covid-19 pandemic. A universal call to action to end poverty, protect the planet and ensure that all people enjoy peace and prosperity by 2030 needs the support of everyone from all societies.